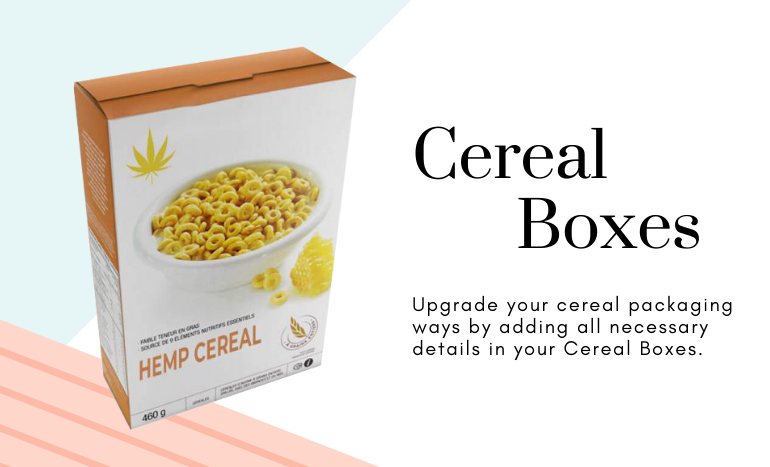 Comments Off

on Get high-quality cereal boxes with splendid designs.
Get high-quality cereal boxes with splendid designs.
Do you want your Cereal Boxes to appeal more than the rest of the products in the market?
If yes, then this is the only right place for you. Claws Custom Boxes ensures that all its products are of the best quality.
The demand and use of cereals are increasing. Since they are eaten a lot, many companies and brands have started to sell cereals. The goodness and taste of cereals matter a lot, but the packaging matters even more now. That is because people usually judge the products from the packaging. If the packaging is good, then your product is undoubtedly going to be a best-seller. Do you want the food lovers to choose your cereals only?
This is possible as we create the most attractive packaging that you can ever imagine. It is necessary to bring out your product in the most attractive way in the market. Having said that, you should also not compromise on the quality of your product. All the food-lovers out there will choose your cereals over other brands because of the highly commendable packaging that we provide. Our cereal boxes are not only going to appear attractive but will also keep the cereals safe. Do not worry, as your product is in very safe hands now!
We provide you unlimited options to customize your cereal box in the best way possible.
Endless options for customizing cereal boxes:
We exceptionally design your cereal box. You can choose any style, shape, and color for your cereal box. We create the boxes according to the theme of your product. Cereals for kids are always packed in eye-catching and vibrant boxes. Whereas adults like healthy and full of energy cereals with packaging themes related to fitness. You can also choose to add further decorations to the cereal boxes. Our printing ink is of the highest quality, and we never compromise on our printing techniques. Our cereal box looks extravagant because of our commendable printing techniques. We make sure that our printing ink gets completely dried before we follow the next step. In addition to this, our cereal packaging boxes are available in all kinds of shapes. We provide premium finishing of the cereal packaging boxes. Our finishing is of the following types;
Gloss lamination
Matte lamination
Glittery and shimmery lamination
Embossing
Spot UV coating
Full UV coating
Gold and silver foiling, etc.
Promote your product with our cereal boxes.
Do you want to create a unique cereal box that depicts your brand in the best way possible?
Promoting the products and advertising them through the unboxing videos on YouTube has increased a lot. It creates curiosity among the customers to rip open a nicely packed box. Moreover, the influencers also make many unboxing videos on YouTube, and it has become a widely used method for promoting the products. This has also led to a raised consciousness among the customers to only choose the best-packed product.
Claws Custom Boxes is here to resolve all such problems of yours. We guarantee that our cereal boxes are going to be exactly according to your needs and requirements. We create custom logos that are suitable according to the theme of your brand. Custom logos are very attractive, and they depict your brand image. Custom logos should be carefully designed because they tell a lot about your brand. We also add a detailed description of the product on the cereal box. It makes it uncomplicated for the consumer to select the product this way. Also, they will like your company or brand because of all the information on the packaging. It will also create a good impact on the customers, and they will be able to trust your company this way.
Contributions of These Custom Wraps
Do you want your cereals to remain fresh and crunchy?
We assure you that the cereals are going to stay super fresh and tasty like they are in the first place. The cereals will never get stale because our packaging is totally premium. Our boxes are made after thorough research, and we also get all our material medically tested so that the food item stays away from any issue.
Our highly skilled and diligent team makes sure to create the perfect box so that the product inside does not get damaged. For this, we principally seal the box effectively so that the cereals remain fresh. Our cardboard packaging is of very high quality, and it prevents the cereals from getting in contact with heat or water. Once your cereal goes onto our box, it will never ever get stale, and that is our guarantee. You can store the cereals in our packages for a long time, and they will still be in perfect condition.
Why should you choose us for manufacturing your cereal boxes?
The main reason for this is that our packaging is always top-notch. We can never even think to be less considerate towards the quality of the product. Another reason that you should opt for our cereal boxes is that they are of 100% biodegradable substances. The world is suffering a lot due to pollution, and it is everyone's responsibility to do something about it. We consider the harmful effects of pollution on our ecosystem, and we want to do something for our home. Therefore, we believe in providing our dear customers with eco-friendly packaging.
It is not just good for the environment but also for the consumers. The manufacture of these boxes is solely made by using eco-friendly materials and does not include any harmful products. Our eco-friendly cereal packaging boxes are also highly durable. These are recyclable and are also reusable that also reduces waste materials. That means you can later use our boxes to store other items as well. Our cereal boxes will surely keep your cereal safe and fresh inside!
Final Words:
We are thankful for the unconditional love that our clients have poured in during all these years. This all is because we care for our clients more than anything else, and we take it as a responsibility to fully satisfy them with all their packaging needs.
Also, we consider it our prime duty to understand the urgency of our customers and deliver the custom boxes to them on time. We are available all the time for our customers and are always ready to walk the extra mile for them.