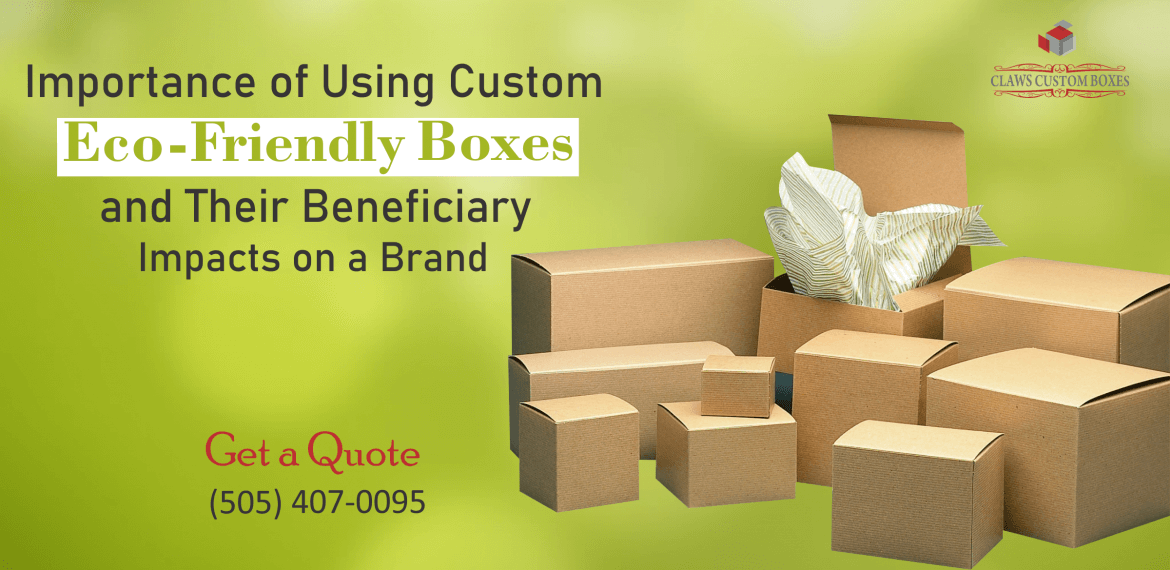 Comments Off

on Importance of Using Custom Eco-Friendly Boxes and Their Beneficiary Impacts on a Brand
Importance of Using Custom Eco-Friendly Boxes and Their Beneficiary Impacts on a Brand
With advancements and innovations in technology, humans have been able to change the course of time and come up with newer means and ways to provide ease to themselves. But this has also provided some adverse side effects and an increase in waste and pollution is one of them. The consumption of products has given rise to the mass production of products. Many business setups are working side by side and they are producing newer and better products every day. This regular consumption of products has also given rise to waste and addition in the pollution. The most waste material that contributes to pollution is the packaging. This is why the need to acknowledge this problem has become a necessity when more and more businesses are becoming a part of the market space every day. This has also set up pollution at an alarming rate.
In such a situation, companies have started to realize their mistakes and now are trying to re-scheme their packaging strategies. For this purpose, they are using safer materials and getting rid of harmful ones. The use of plastic has adversely affected our surroundings as it is the most prominent reason for pollution and waste accumulation. So getting rid of plastic is the first step towards controlling this hazardous situation. Custom boxes and their wide and extensive range of material choices are a breath of fresh air for all retailers. Using these boxes in their safer materials, any company can put a stop to this problem. This is why today, their demand is quite high and their popularity is also apparent and obvious. Eco-friendly boxes and their material options do not add up to the increasing pollution but help companies in controlling their carbon footprint.
Importance of Using Eco-Friendly Packaging Boxes in the Market Space
The environmentally friendly packaging boxes are now becoming very common and popular. Since the harmful impacts of plastic and other materials have come out, retailers do not prefer using them. Instead, they have switched to safer options. The most common type of nature-friendly packaging is cardboard and Kraft Boxes. Both these materials are the ultimate solution to all pollution problems that our environment may face. These packaging boxes are present in all sizes and shapes in the market. Their structure, flexibility, sustainability, and durability are just an addition to their ecologically friendly traits. This is the reason for their higher demand and popularity in the market. Now brands belonging to almost all industries reusing these boxes and enjoying their benefits. Customers nowadays, also prefer companies that use these boxes over all the other ones. This is yet another reason for the shift towards these Eco-Friendly Boxes .
Custom eco-friendly packaging is becoming common with every passing day as more and more businesses are choosing it over all others. These are in use among all industries. From the food industry to the cosmetic industry, from the apparel industry to accessories, every brand working in these can use these packaging boxes. These hold all necessary traits that are essential for products. Protection of a product is the most important aspect of packaging boxes. These boxes whether in Kraft packaging or in cardboard, are equally able and capable of providing the products with protection. These can ensure safe packing, storing, and delivery of products to their destinations. Retailers prefer these as they are also efficient in securing the product while long-distance transportation. For instance, cardboard is among the most common delivering boxes present in the market.
Impacts of Eco-Friendly Packaging on the Companies That Use Them:
This is why even customers like companies that use cardboard or any other material. These also offer flexibility in their structure which means that they are not specific in their packaging. Instead, they are in use for packaging all types of products. Their versatility makes it easy for all companies to use them and make this switch. All types of food packaging are also done in these as they can keep the products fresh and preserve their taste as well. Similarly, Kraft paper boxes are in use to package food items as well as cosmetic products and apparel items. All these are effectively packaged in these boxes. The only purpose of these is not to keep the environment safe. These also provide a number of benefits to a company that uses these packing boxes. For instance, these boxes can highlight the specific traits of a product.
These can also add to the visual appearance and beauty of the product. Visual prominence is necessary for any kind of product to gain success. The competition in the market is quite intense, this gas made it hard for customers to lay their eyes on a perfect product. As they cannot see a product and examine it, all they see is the packaging. So on retail shelves, a product is judged entirely on its looks. If its visual display and presentation are good, it will surely leave a lasting positive impact on the customers. But if it is not the case, then failure for not only the product but its manufacturing brand is both evident and obvious. This is why these packaging boxes hold great importance for all brands and companies working in the market. custom boxes can highlight a product and make it successful in the market.
Benefits of Using Eco-friendly Packaging for Product Packaging:
All types of products that are present in the market need to gain popularity and customer validation to get success. The most important contribution a product does to its manufacturing company is to provide it with greater exposure. It is both important and essential for the company. Through a product, a company can do its marketing and effectively promote itself too. So choosing good packaging for products is another contributing trait a company can provide. Through good packing, not only the product gets a boost at the market level, but the company also gets recognition as a potential brand. It is important that the customers approve a product, as the products are for the customers to use. If they like the product, the company automatically gains significance, if it does not, then failure is inevitable. This is why no product comes to market in a neglected packing box.
Custom Eco-friendly packing is also a great way of adding distinction to the company's strategies and schemes. Through these boxes, any company or business can get differentiation and recognition as an individual brand. It is important to get a separate identity for the business. People can get familiar with a brand and its products. Instead of staying a shadow self, companies can flourish with the help of these boxes. They cannot just gain recognition but also highlight and uplift their products and their reputation in the market with the help of these boxes. These can increase customer engagement with products and thus, add to the market value of a company and its products as well. These are a great way of providing success to a company and making it a significantly successful brand and business in the market space.
Conclusion:
We at Claws Custom Boxes, deal in all types of eco-friendly boxes. We offer size and shape variations and many customization techniques as well. From beautification of boxes to the inclusion of other add-ons, we are efficient in our work and ensure quality-oriented packaging boxes as well. Our eco-friendly packaging boxes are unique and one of a kind. The strong structure and strength of our boxes can keep even the most fragile product safe and deliver it in full security.