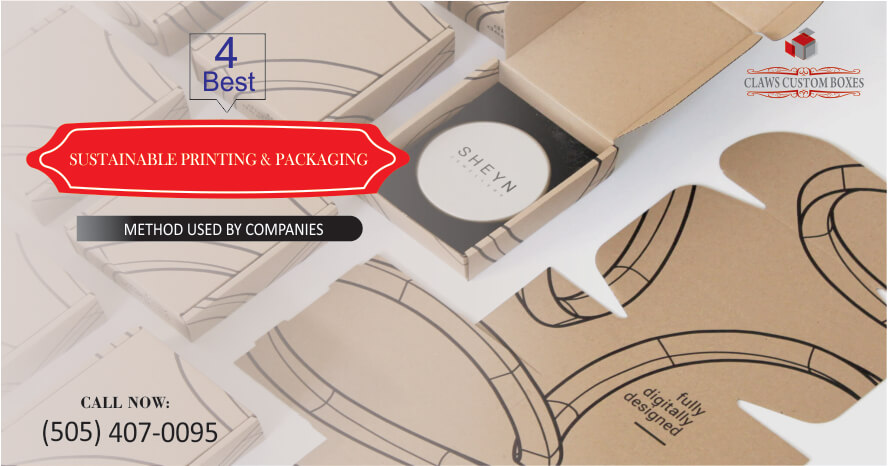 4 Best Sustainable Custom Printing Packaging Methods Used By Companies
Sustainability has become a buzzword because of the increasing environmental awareness among the masses. People and packaging companies have become very concerned about the sustainable manufacturing of custom boxes that cause no harm to the environment. Different packaging companies use different packaging and printing methods that are sustainable and stylish at the same time. In this Blog, there would be a discussion about the sustainable methods of Custom Packaging
When we talk about sustainable packaging, the choice of stock and paper matters a lot. Companies now prefer using recycled paper to make their packaging more eco-friendly. To main the paper cycle, we also need new tree fiber along with recycled one. Fiber degrade after many times recycling, so the packaging industry needs to keep putting in new fiber. So, the best practice use by companies is to use a mix of both virgin and recycled fiber for making the product boxes.
Following are some significant sustainable printing & packaging methods used by many companies.
Carbon Balanced Paper
Carbon balanced paper term is getting famous among the packaging companies. Many of you may have heard about it but most people don't actually know what it really is. A carbon balanced paper means, the carbon created during paper production and mill delivery is balanced out. It is said to be a more sustainable and environment-friendly way of printing the product boxes. Here are many companies that have been using carbon balanced paper for the manufacturing of their custom boxes for products. Printing suppliers offering this packaging option to their clients, so they can make more eco-friendly packaging for the products. Consumers are now also looking for sustainable packaging that further motivates the packaging companies to use this material for the manufacturing of products.
Carbon Balanced Printing
After sustainable manufacturing of boxes, sustainable print is the next step. Many suppliers don't actually focus on the printing methods used to make the boxes that prevent packaging to be 100% sustainable. Of course, suppliers have to go out of their way to get the status of carbon balanced printers. In this process, packaging companies have to keep complete track of the carbon pout of their company. To balance out the entire process, suppliers have to invest in printing methods that decrease or reverse the whole carbon output. They can use electronic vehicles, double glazed windows, etc. Applying these methods can help suppliers reduce the impact on the environment.
Digital Printing
In the case of digital printing, you don't have to do manual printing that reduces the among of waste produced when doing the printing of the product. The varnish of the product boxes sticks on the top layer. This method of printing is very different from other conventional printing methods. It is also a quick method, and there is no plate used in digital printing. Using this printing machine, you can print up to 4,800 sheets that makes the printing more cost-effective.
Packaging Company Should Be Eco-Friendly
Make sure to contact a reliable service provider to make your product boxes. You can easily discover reliable companies using high-quality printing techniques keeping in mind the sustainability of the environment. Your packaging service provider should use sustainable Custom printed Packaging methods for making the product boxes; it would help you build your reputation as an environment-friendly company.