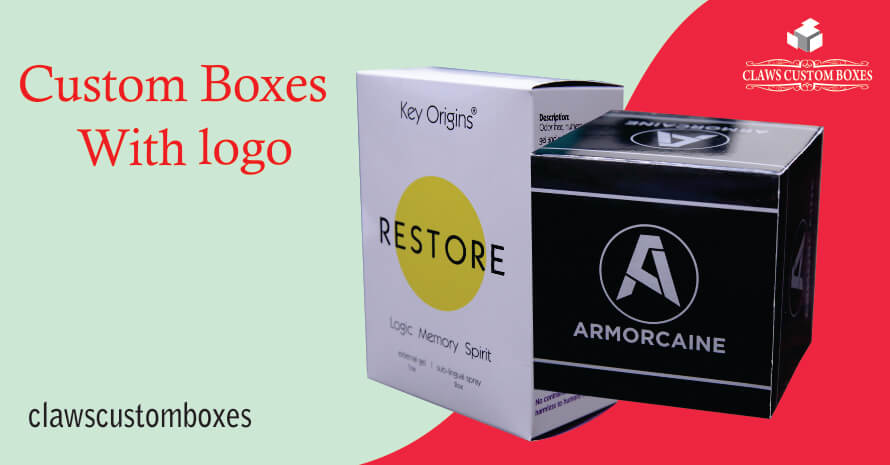 Comments Off

on Claws custom boxes- provides a complete and wide range of custom boxes with logo
Claws custom boxes- provides a complete and wide range of custom boxes with logo
Custom boxes are now considered necessary because they leave an everlasting impression on the consumers. the claws custom boxes provides you the best custom boxes with logo to meet your brand needs and requirements. Custom boxes with logo help to enhance your brand identity and boost your business. You must always choose the best logo for your custom box. You will not have to do any extra promotions because a good logo will be enough for that. We ensure the high-end quality of boxes. We give you complete control to design the custom box according to your desire. Our trained and experienced graphic designers will help you throughout the manufacturing process. We provide free-of-cost assistance and guide you through the whole process. The decision depends on the theme of your brand. The color, shape, style, size, and material will also be of your choice. We will help to convert your dreams into reality.
Endless options for your custom boxes with logo:
Tt the claws custom boxes, you will find the complete solution to all your packaging problems. We will satisfy by providing all the desired information in very little time. Customers always look for good customization packaging of their custom boxes with logo. It is the only way to convey your brand story to the target audience. The way we customize the box is exceptional. We own our work and also guarantee that it can be seen nowhere else. We provide you with a variety of printing options, finishing options, coloring options, embossing options, coating options, and decorating options. We keep the logos vibrant and flashy to attract customers. You can also choose a royal, classy, colorful, matte, glossy, shimmery, and glittery logo according to your requirement. Our motto is to deliver exactly what you have envisioned. We use cardboard material, kraft, and paper material. These materials are available in different styles such as cut boxes, window boxes, retail boxes, and corrugated boxes. We deal in all kinds of custom boxes with different shapes and sizes.
Square mailer: It has a sturdy and tough structure. it is best for enclosing small, flat, and wide items.
Shipper: This box is best for storing large-sized products as it is deep.
Carry handled: This box has a handle that provides extra protection to the product inside. The handle makes it very easy to hold. Fragile products can be kept inside.
Display mailer: It is a sturdy box that gives an elegant look. It
Gift mailer: This box has tuck flaps attached which provide extra protection to the product. It is best for storing cosmetics and other gift items.
High technology Custom Boxes printing techniques:
It is our motto to help all our clients in their packaging needs, demands, and necessities. Many things are critically looked at when deciding on a logo. People also see things other than the logo such as the quality of the box, the style of the logo, the printing of the logo, and the quality of the ink. We use only the best and the finest ink for printing so that your product looks extravagant. We are using top-quality printing services such as digital printing and offset printing. The printing should not smear across the box. It should be properly dried and well in place. Our printing is always unique and eye-catching. Our team of expert designers works hard to meet the expectations of our valuable clients.
High technology manufacturing process:
we make sure that the whole process remains pollution-free. Our machinery is used under proper observation. We use only the best and the most latest techniques. We ensure that all the waste material is properly recycled.
eco-friendly materials: Our custom boxes with logo are made with 100% biodegradable materials. We use sustainable materials that are light in weight. we strongly condemn the use of materials that harm our environment. We strive to make this environment a better place to live.
Enhanced brand recognition:
Good logos will always benefit your brand and business.     In today's world, only a good custom box with a logo can help to increase your brand's reputation.   Are you in search of something different? The Claws custom boxes provides you the different.  Customers will always buy your product if your logo is attractive and eye-catchy. You can get your logo finishes in silver and gold foiling to attract your customers. Designing the best custom boxes with logo is considered to be a great marketing technique. Your company will be able to stand out in the market if your custom boxes and logos are impressive. In addition to this, we use eco-friendly materials that will also enhance the reputation of your brand. The sales ratio of your brand will automatically increase if your custom box with a logo will be attractive. Our design perfectly showcases your product. We also provide all the information on the custom box in detail. This will help the customer to buy from you instantly without having any second thoughts. You can also use the display box with a printed logo to display your product on the shelf. These display boxes also play a very significant role in the recognition of your brand. A brand without a logo is considered a flower without scent. Logos help to give clear meaning to your brand.
Customer query: We are available 24/7 to listen to all your queries. We are ready to walk an extra mile with you to satisfy you. Being a client-centered company, your satisfaction is our priority.
Fast turnaround time: We deliver in 6-8 days.
Free shipping: We provide free shipping to our dear clients.