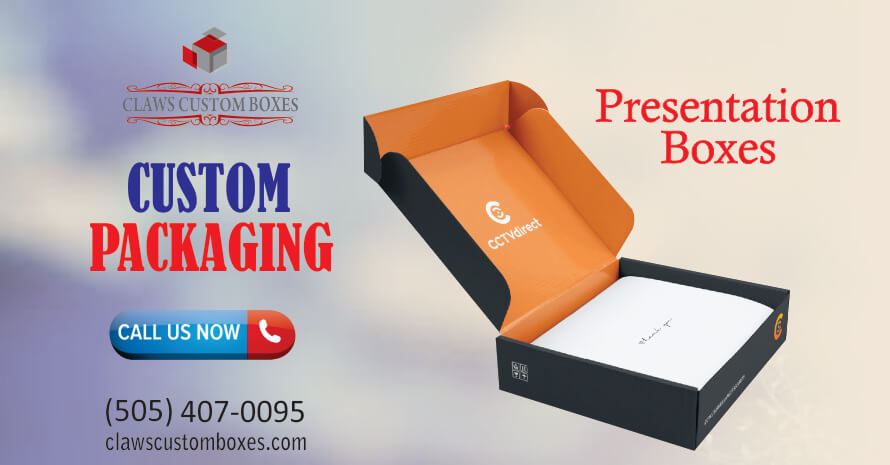 Comments Off

on Everything that you might need to know about the presentation boxes!
Everything that you might need to know about the presentation boxes!
Looking for information relevant to Presentation Box? You are absolutely in the right place. Here, we'll school you about everything you should know about a presentation box before actually buying it.
So what are presentation boxes?
Presentation boxes are used for keeping or presenting something formal or expensive in it. For example, gifts, precious things, etc. Different people may use it differently. For example, a shopkeeper may use it to sell the expensive stuff. These delightful presentation boxes can help make your products more tempting for those who are going to be receiving them. You can use these boxes to store and send various kinds of items that could be from personal care to eatables to something related to technology. But the list still not finishes here. There are uncountable things that you can use it for.
These boxes portray a loveable gesture of you towards your loved ones. Moreover, they can be used to show respect and honor to your business colleagues. You might not feel it, but the presentation boxes reflect much of the giver's personality and intentions to its recipient. A box that is designed in quite an artistic and creative way portraits the sender's talent and creativeness. On the other hand, a box that is too vibrant or sharp in colors exhibits the lively side of the beholder's personality.
What's good about our presentation boxes?
We all know about the increasing effects of global warming on this planet Earth. It has been seen to rapidly damage Earth. This bitter but true fact has made us choose environmental friendly methods and materials for the manufacturing of all the products. With the help of recyclable materials, we are able to cover up most of the costs and minimize the wastage that is produced by processing the products. We are playing our role to protect our mother Earth by providing our customers with environmental friendly presentation boxes.
The Claws Custom Boxes manufacture presentation boxes that are made up of materials that are ninety-nine percent recyclable. It makes them environmentally friendly. These boxes can vary in shapes and sizes, colors and designs, etc. The texture of the boxes and the inner linings of the boxes may differ. They are made using machinery and hands, both. A very little help is taken from the machines, however, all the rest is done by our hardworking crew who use their hands to make it up to the mark.
We are providing you with the option of customization
The Claws Packaging Boxes offer several variations of very beautiful and attractive customized presentation boxes in eye-capturing sizes, shapes, colors, and designs that fulfil each vendor or individual's requirements for its special gift packaging. We aim to provide you with the most accurate solution for your packaging needs that will suit your pre-requisites for any sort of product. We have strived to offer custom changes in the presentation boxes that are usually used for the packaging of products including gadgets, technology, garments, jewelry, etc.
The Claw Custom Boxes present you with the most embellishing presentation boxes at a very reasonable price, where you even get a number of value-added benefits. You can get the boxes customized according to your needs, your ideas, your products, etc. You can get a customized logo printed on it. We provide you with an option to get a personalized message printed on your box. You can choose to decorate it with the help of different accessories such as fancy buttons, silk ribbons, and beautiful laces. Seeing the increasing interest of people to make things aesthetically pleasing, we should always be focusing on the packaging. Moreover, we can always send you a sample first so that you can be assured of what you are ordering.
We are struggling to provide a detailed package designing platform for our customers. With the help of this platform, our customers can find good ideas to make the packaging, or improve the current ideas for their packaging. Claws Custom Boxes has considerably made its place in the US market, which is quite remarkable as the market is vast and has great competition. Our company has the best ad latest machinery that is equipped with the latest technology so that we can bring the best of the printing and design options for you. We aim to bring you a large variety of manufacturing options so that you can personalize the products being engineered according to your needs.
With the help of personalization, you succeed to get an edge to stand out in the whole existing market when there already are a lot of competitors standing in front of you. Personalization will help you to convey a message to your customer in a unique way, through your designing. The design, them and logo of the personalized presentation boxes will tell your customers the story and background of the item that is present in the box. The custom boxes become a vital part of the selling strategy, whatever the part of the world it is. Every idea that is in your mind is grasped by our professional designers so that is can be put into the best packaging as it is. With influencing and breath-taking designs of our presentation boxes, we help the retail brands to put a deep impression on the recipients of their products. By providing all these means, all we want is that our customers be at peace throughout.
Why choose Claw Custom Boxes?
We, here at the Claws, ensure that you are introduced to the latest designs and technology keeping in view the fact that everything must be pocket-friendly. We can guarantee you that you will get the least prices for the best quality here at our company. We also provide the option of delivering the packages to your doorstep in these times of the COVID'19 pandemic. The benefits that we provide to facilitate our customers in the best possible ways will surely be matchless. The way we treat our customers and keep their satisfaction our topmost priority is what makes us different from them all. For more information, please do not hesitate to contact us!