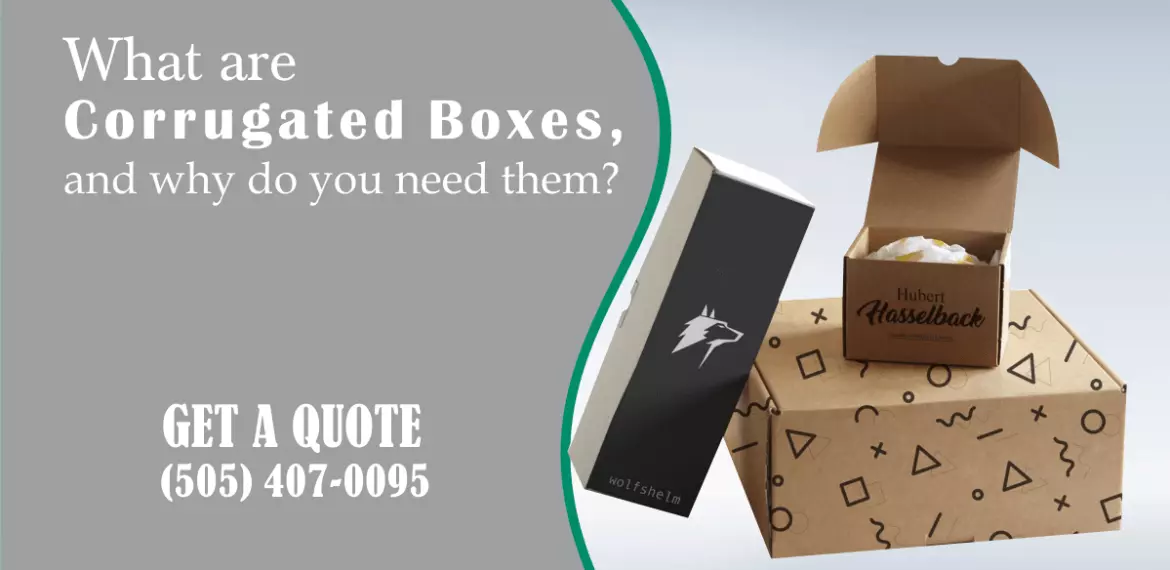 Comments Off

on What are corrugated boxes and why do you need them?
What are corrugated boxes and why do you need them?
Corrugated boxes are high in demand because of their various uses. These boxes are superior to all the rest in terms of durability and toughness. Once you use these boxes, you might want to only use the corrugated boxes again because of their so many advantages. These boxes are unlike any regular packaging boxes. Corrugated boxes keep your products safe no matter how fragile they are. Claws Custom Boxes help you design and manufacture the best-corrugated boxes according to your needs and requirements. We have the widest variety of all kinds of corrugated packaging boxes. We guarantee you that you will not get disappointed upon choosing us to provide you all your packaging solutions.
Do you want your customers to choose you because of the fact that you give them the best packaging experience?
If yes, then corrugated boxes are the answer to that. You might have wondered that how boxes can provide so much support and durability to the product. The boxes that we manufacture are, without a doubt, of the best quality.
All the regular packaging boxes consist of only a single layer of paper, and they cannot be really trusted for fragile products that have to be shipped at longer distances. However, corrugated packaging boxes are made up of at least three layers of sustainable material. These layers are composed of an inside liner, an outside liner, and a middle liner. Apart from being so durable, it is very light in weight, which makes it the best choice for shipping purposes.
High-quality and sturdy corrugated boxes.
Our corrugated boxes are so resilient that even after getting so many jerks and shocks, nothing will happen to the product inside. These packages are invincible and also survive in very harsh conditions. The three-layered packaging corrugated box prevents the entrance of water or sunlight as well, which diminishes the chances for the product to be damaged.
Types of corrugated boxes:
Board types: There are primarily four board types out of which the single wall-board and the double wall-board are used the most. These boxes provide a proper shape and protection to the product inside. They also serve the purpose of a soft cushion for the items to prevent them from being damaged. The double-wall corrugated box is used specifically for heavier products and longer distances.
Flute profiles: There are A, B, C, D, and E flute profiles. This determines the thickness of the box. Flute A is the thickest corrugated box. The packaging of Flute A box is approximately 5 mm thick, and it is most suitable for the products that require extra cushioning and stacking to avoid them from being subject to shocks.
Board grade: The board grade is known as Mullen or Edge Crush Test (ECT). The ECT determines the amount of pressure the box can bear before being crush and stacking upon one another. At the same time, the Mullen measures the amount of pressure the box can withstand after being busted or punctured.
Customization of corrugated at affordable rates boxes:
The ability of a corrugated box to be customized increases its value in the retail packaging industry. Our team does a lot of work day and night with determination to produce the best designs. Our customized corrugated packaging boxes speak for themselves. All the companies and brands should pay a lot of attention to getting their boxes customized because the demand for such packages is increasing a lot. People now only but the product which appears to be uniquely designed in terms of its packaging box.
We also offer the finishing of corrugated boxes in the following types:
Matte finishing
Gloss finishing
UV spot finishing
Shimmery finishing
Embossing finishing
Debossing finishing
Foil stamping finishing
Gold and silver lamination
By choosing our corrugated boxes, you will have the opportunity to further add different kinds of embellishments, accessories, bows, ribbons, etc., to the boxes. Claws Custom Boxes designs the corrugated boxes according to different events as well. You can get a customized corrugated box made for Christmas, new year, weddings, birthdays, baby showers, and many other events.
High-quality printing: We also offer the best printing options to our dear clients. Our printing ink is of the highest quality to prevent the finishing of the packaging boxes from being compromised.
Go green with our eco-friendly corrugated boxes:
The safety of the environment is our number one priority. We would never want to harm our ecosystem in any way, and we condemn the use of harmful materials for packaging boxes. To fulfill this objective, we utilize biodegradable substances in the manufacturing process, which helps you to reuse, reduce and recycle the box.
Are you ready to switch to corrugated boxes?
The custom corrugated boxes that Claws Custom Boxes provides are sure to increase your sales as well as your brand awareness. Our packaging boxes are designed in a way that will promote your product. People will want to buy the product just by looking at its packaging. Furthermore, these packages are best for your business or brand as they are very pocket-friendly. We print custom logos that enhance the position of your brand in the market by providing it with an ideal representation. Also, the durability of these corrugated boxes will help your clients entrust you, and they will always opt for your brand or business for their packaging needs.
It would not be wrong to say that if you haven't yet switched to the corrugated packaging boxes by Claws Custom boxes, you must now!