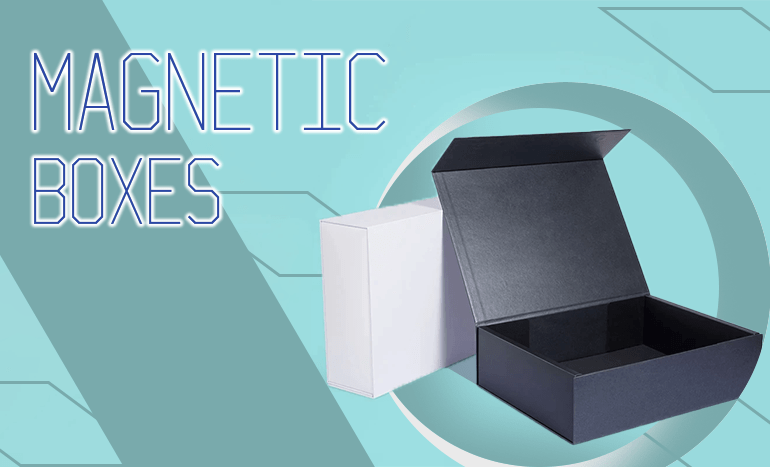 Comments Off

on The Importance of Use Magnetic Closure Boxes
The Importance of Use Magnetic Closure Boxes
magnetic closure boxes People love to receive gifts that are enclosed in boxes. The packaging used for the gifts always attracts people. For them, it doesn't matter what is inside the box. Rather they get attracted to the boxes. Previously, it was a trend to pack and wrap gifts. But now, the advancement of the custom boxes industry. New and stylish boxes can be seen in the market. They are sleek, with beautiful embellishments on them. Some are designed with colorful ribbons and bows.
Similar to that people love to keep gifts in magnetic closure boxes. As these boxes appear slim and easy to fit in any place. Also, they are easily carried on longer distances. When these boxes are used by a company for their products. It helps them look more professional.
Most people keep their jewelry items in such kind of packaging. Because they are not visible from the above case. No one can find out you had kept jewelry there. The strong magnetic lid will never allow dust to settle on the precious stones and jewelry.
Claws Custom Boxes
The claws custom company is working for years in packaging boxes. They have various types of boxes like the following
Cosmetic boxes
Gift boxes
Magnetic boxes
Jewelry boxes
Metal boxes
Food boxes
Retail boxes
Display boxes
All of these boxes are then customized for their clients. Further, they even have versatile options for styling the boxes. For example, they design these features
Styling for the gift boxes
The styles for the inner portion
Templates design
Lock end
Lid and hinge style
Label designs
The most popular type of boxes sold by this company is magnetic closure boxes.
Magnetic closure boxes
However, every cardboard box looks the same. Even after they have designed and styled them. This company introduced a unique style of box. That looks completely distinct from the normal boxes. High-profile companies often like to market their expensive articles in such kind of packaging. They choose uncommon and unique designs. As they are introducing a product, which has a lot much money invested in them. So they try to enhance the packaging also. Sometimes, they have their ideas for the colors and styling of the boxes. But, they mostly consult this packaging company for further detailing. The box is then made from the client and custom box companies' consensus.
These boxes are more secure than the normal cardboard boxes. The reason for this is they have a small magnet that is used as a lock. The product inside the box is safe from the accidental opening of the package. Mostly, people use them for cosmetics, and skin products. Also, they use them for medicines, candies, shields and awards, decoration items, cards, clothes, jewelry, glass-made items, and much other stuff. Apart from safety, they look too descent in front of the clients and customers. Even people use them for promoting their products in industries. Sometimes, designers used them for placing their extra luxury dresses.
These boxes are then designed by the company. The clients or customers feel convenience in opening the boxes. As they don't have to unfold the lids or tapes to take out the product. Rather, they just have to open the magnetic lid and the whole box is opened.
Magnetic boxes features
There are a few features that enable people to purchase them. Firstly, they make them from strong cardboard. So it gives the extra stability. Afterward, you won't feel heavy when picking up these boxes. These boxes have great resistance to weather. So people can keep this box safe for a longer time. At first glance, people like the boxes. Because they look smart and elegant. Also, their design and creativity in making them are excellent. People always admire their design and style. Even if people place an inexpensive product in such great packaging. Then, it would please its client.
The Claws Company make them from Kraft boxes, cardstock boxes, corrugated boxes, and bux board boxes. The packaging they used is biodegradable. It's up to their client's demand for which type of boxes they require. All the above materials would make the box strong. They have selected this particular material. So that their boxes can hold large and heavy products also. Next, they use different types of painting and printing techniques for the design of the label. They might use different font sizes and colors to enhance the appearance.
Benefits of these boxes
Opening and closing folds of the boxes
Customers are genuinely happy when they don't have to put extra effort into opening the boxes. For people, this simple fold of the box can sometimes be complicated. Using these boxes will be a relief for them. They would easily open them. Apart from customers, the companies also feel relaxed showing their packaging to everyone. The packaging is the major part that persuades the sales of their products. Mostly they display and place their new and expensive items in them. As it discriminates against other products from this particular product.
Security
The box appears stable and in confined shape. Also, the structure of the box does not damage with time. For this cause, people prefer to use magnetic boxes. They have used strong cardboard that won't diminish even after harsh and rough usage. They can easily parcel the box through a van because of their quality. Also, the material they use won't allow dirt to accumulate on the box.
Packaging
They had made sure these boxes resist harsh environmental conditions. They normally make them in white and yellow color. But they won't restrict you to such colors only. If their client demands colorful packaging. Then, they even do that. For this, they used various color schemes. The print company's details, logo, and name on the packing. Clients immediately guess the product and company from the package appearance.
Customization
Their professionals have expertise in designing and customizing the package with their client's details. They can add modifications and variations to it. Further, people can alter the dimensions they like. Their product will appear beautiful in this proper casing box. Also, they have another great option for the modification of the box. Like if their client wants to place two to three objects in the box. Then, they can segregate the box into sections.
Pricing
Designing the custom boxes from this specific company is quite economical. The creativity they add to your boxes is unmatchable.
Magnet
The strong magnetic closure boxes they attach to the boxes never lose their magnet power. All of your orders would have the same size of magnetic. So that they all look the same.