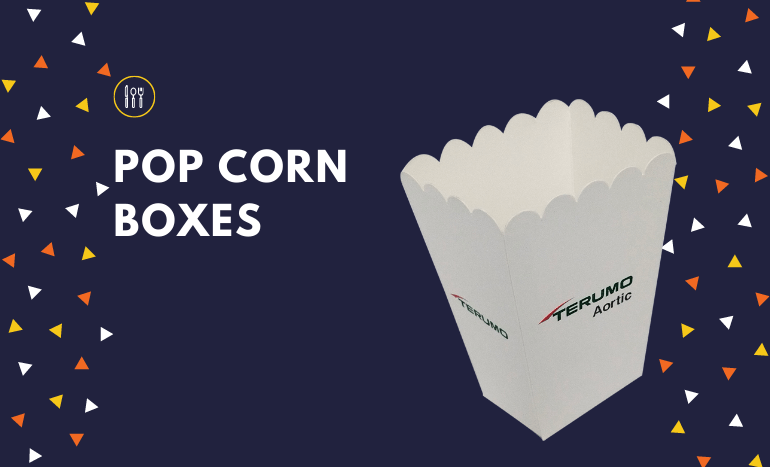 Comments Off

on Stand out in the Market with Protective & Creative Popcorn Boxes
Stand out in the Market with Protective & Creative Popcorn Boxes
Everyone loves to have popcorns while watching a movie, during gossips, while going on a trip, and on many other occasions. They are the most liked, delicious, and light snacks. However, popcorns are best to satisfy your cravings. To enjoy their full crunch, warmth, and taste, these snacks need to be fresh. For this, popcorn boxes are the best choice. Especially, a movie remains incomplete without popcorns.
Nowadays, popcorn packaging boxes are available in multiple styles, prints, and designs to perfectly accommodate the popcorns. Usually, they are made of eco-friendly and durable materials that maintain the crisp and freshness of these snacks. You can get custom popcorn boxes wholesale in many designs that excite people. Moreover, you can perfectly hold the popcorns in high-end boxes while watching movies.
In these boxes, you can serve the popcorns to the customers efficiently and securely. Besides, they serve marketing and branding purposes. Many packaging companies offer custom popcorn packaging in various styles. Hence, Claws Custom Boxes is the most reliable name when it comes to get high-end popcorn packaging solutions. Without high-quality and attractive popcorn printed boxes, you cannot win customer's attention. Also, they are important for the safety and freshness of popcorns.
Types of Popcorn Boxes
The need and demand for popcorn packaging have increased so much. People want to buy popcorns in unique, creative and durable packaging boxes. Despite this, the retailers need to go with exceptional boxes for popcorns that cast a great impression on customers. The popcorn containers are made innovatively to hold the popcorns perfectly while watching movies in cinemas or at home. Hence, the inspiring designs, structure, and prints of these boxes must be outstanding. Popcorn packaging comes in many sizes, styles and prints depending on your specific needs. Different materials and manufacturing techniques are used to make them. Hence, the most popular popcorn box types are as follows!
Cardboard Popcorn Boxes
Custom Popcorn Paper Bags
Printed Popcorn Tins
Packaging Popcorn Buckets
Plastic Popcorn Containers
Why you Need Custom Popcorn Boxes in Premium Style & Quality
Packaging boxes have become a basic need in all industries. The boxes enhance the product's aesthetic appeal as well as safety. Moreover, they give your retail stuff a distinctive outlook thus help you to stand out among competitors. When it comes to popcorns, you require high-quality, biodegradable and attractive boxes. With their help, you can be a best-selling brand in the market. Many benefits are attached to the top-notch popcorn packaging in terms of safety, branding, attracting customers and much more. Here are the top reasons to use attractive and durable popcorn printed boxes!
To Maintain Freshness & Crisp of Popcorns
Do you want to impress your customers by selling quality and fresh popcorns? If yes, then go with high-quality popcorn boxes. The durable and sturdy packaging protects the popcorns from outside humidity, bacteria, and other hazardous elements. Moreover, these boxes are mostly created by using Kraft, corrugated, or cardboard. All these materials are suitable for edible packaging as they are biodegradable and secure. In these boxes, the popcorns will remain crispy, fresh and warm while maintaining their taste for a long time. For added protection, you can also get custom popcorn packaging with lids.
Attract Customers Quickly
People are more inclined towards products that come in high-quality and attractive packaging. The same is the case with packaging. Your popcorn box design must be alluring enough that does not disappoint your customers. Many styling, printing, and designing options are available to make the popcorn packaging distinctive. With strong and appealing popcorn packaging, you can make a strong customer base by attracting people easily and quickly. However, well-designed popcorn printed boxes can lead you to more sales. You can enhance the packaging appeal with incredible customization, printing and designing options.
Along with many other benefits, the packaging boxes play a vital role in product promotion, marketing and branding. They are considered affordable yet effective tools to promote your brand in the market. Hence, you can acquire significant promotional advantages by choosing premium popcorn packaging. These boxes help you to enjoy a distinctive and valuable position among competitors. By getting popcorn boxes with logo, name, tagline, and other details, you can enhance customers' loyalty towards your brand. Moreover, you have the chance to show anything about your brand on the boxes to enhance its visibility.
Design Popcorn Boxes Innovatively to Get Noticed
Let's break from dull, boring and traditional packaging and go with something new. People are more interested to get popcorns in creative and unique boxes instead of on an old one. Because of this, you need to adopt new popcorn packaging trends and ideas in order to create outstanding boxes that increase your brand's appreciation and product's demand.
You need to consider the quality as well as the designs of the boxes to get the right attention from customers. Many diverse printing, die-cutting, finishing, and design options are available to make eye-catching popcorn box packaging. This way, you can gain huge business benefits in a short time. You need to choose the right design approach to get popcorn packaging in exclusive styles. Here are some popcorn box designing ideas and tips that will make your packaging stand out.
Go with colorful themes, prints and designs
Use eco-friendly and durable packaging material such as Kraft, cardboard, or corrugated
Use high-end lamination and finishing options
Add transparent windows to the boxes to beautify them
Get your brand's logo, name, or slogan printed on the boxes
Use fascinating graphics, artwork and themes
Choose unique and alluring shapes to attract customers
Claws Custom Boxes offers Durable & Affordable Popcorn Boxes in Creative Designs
Popcorn packaging boxes are a great part of your marketing and branding efforts. They accommodate the popcorns safely and attractively as well as promote your brand. However, you need to invest in exclusive, durable and attractive popcorn packaging boxes to enjoy enormous business benefits. With their help, you can win customers' trust and attention at the same time. However, you need to choose a reliable packaging company to get top-notch popcorn packaging solutions.
We at Claws Custom Boxes offer an incredible range of popcorn boxes wholesale in exceptional quality and designs. Our team is proficient in creating and designing popcorn packaging that will grab the buyer's attention quickly. Furthermore, these boxes are strong and durable enough to keep the popcorns crispy and fresh for a long time. We use advanced printing, manufacturing and designing techniques to make alluring custom printed popcorn packaging. Also, we offer unlimited designing and customization options to our clients.
You are available with a chance to get boxes for popcorns in all shapes, themes, prints, colors, designs and shapes. Many finishing and die-cutting options are also available. We only use durable and eco-friendly material to make protective popcorn packaging. The latest printing approach lets us design the boxes in unique and creative ways that quickly grab the attention of your customers. Hence, our rates are highly affordable and flexible.
We offer all types of popcorn packaging from which you can choose as per your specific needs and budget. So, earn more profits and sales by selecting your favorite design from our popcorn boxes templates or specify your own. Request a free quote now!