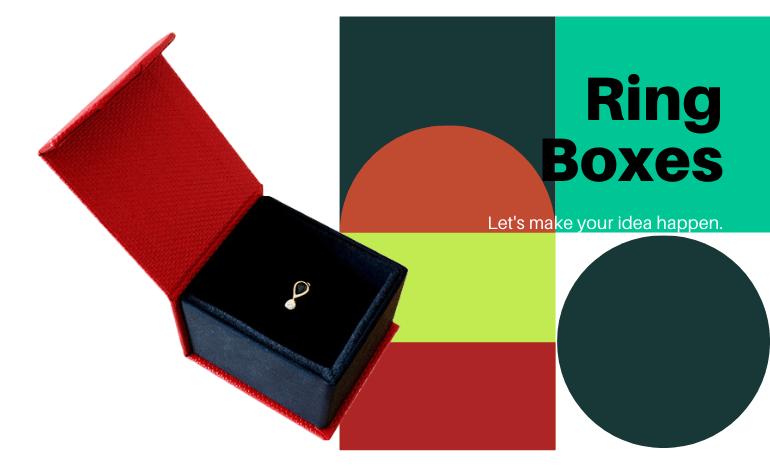 Comments Off

on Present Your Love Through Superb Ring Boxes
Present Your Love Through Superb Ring Boxes
People love to look different during pleasant evenings. A component in their look is their dressing. And the major element in their dressing is jewelry. They love to wear such items on their body to give a shiny look to themselves. In essence, jewelry items look spectacular because of their built and shine. Wearing these items on the neck, fingers, as well as arms is what people like the most.
Men and women alike wear such items to look beautiful. This is why such industries appear in demand throughout the year. A product does not sell faster and effectively unless it covers all specifications. One of the key ingredients in the specification list is the packaging. A packaging product offers the best help and support when it comes to packing items. Through such a product, your items find safe coverage from dust, impurities, and the atmosphere. A popular jewelry item that has importance is a ring. For them, Ring Boxes have great importance.
Sleek and Stylish
Sometimes, it is not what a product gives. But it is how it looks like. This is because most of the advertising is done to promote items for people. And a major chunk of this promotion is done through the advertisement of different types. In this light, a ring boxes offers the best marketing option for you.
The reason? Instead of spending huge bucks on extra advertisements such TV ads and brochures etc. You must design and stylize your box in an ideal way. Boxes for rings present a sleek and stylish look. This is because such boxes have a smaller size to accommodate these delicate items.
These boxes allow a uniform design allowing for easy access to the item. In essence, the design does not overdo everything the box represents. In short, such boxes have great importance especially when the safety of the product is a priority.
Boxes: Economic and Effective
Of all the packaging products, only boxes stand out as the best option. Packing custom boxes bring a lot of benefits. However, they face stiff competition from rivals such as paper bags and plastic shoppers. Thus, here is a short review of what lies in these packing items.
· Boxes
A box is a rectangular or square packaging product. It offers a stiff shape that is not easy to deform. In essence, each box carries a unique design and meaning. Thus, for a different product, you have different packing boxes. Moreover, a box is an economic way of packing items. This is because each material that makes a box is accessible at a low cost.
· Plastic Shoppers
Plastic shoppers have more demand than boxes. However, people do not know the downgrade of these items. A plastic shopper offers low security for your product. Moreover, there is no firm shape on display. In essence, these shoppers do not have any shape. Thus, your product gives them the shape. This packaging product is expensive and extremely negative for the environment.
· Paper Bags
The least amount of security and strength is on offer through these bags. As the name says, these bags are nothing more than soft and light paper. Thus, do not expect them to carry any weight. Thus, this is why you will see people carrying them through complete support.
Customization Hacks
Though boxes for rings appear small, tiny, and less important. Thus, make them vibrant and classy. For this, you need to customize, modify, and stylize your custom boxes with logo in the best way. And there is no shortage of techniques.
· Size
In the case of rings, the box must have a good and accurate size. This is because you need to make them hold the rings as well as easy to carry. Thus, you need to decide how many items you wish to include in them. If you want to store multiple rings, then consider making a large box. Do not stack more than one ring in a single small box.
· Auto-Lock
There are not a lot of design options in these boxes. This is because these boxes adopt a uniform design and shape. Thus, each such box has an auto-lock design which allows for effective closing. Moreover, the pressure does the trick too. Such ring boxes do not open easily. You need some pressure to open and close.
· No See-Through Window
Do not mistake these boxes solely for advertising. Firstly, these boxes allow good display over shelves. This is possible by simply keeping the box open. Moreover, these boxes allow delivering of rings as gifts and presents. Thus, in both cases, a see-through window will ruin the purpose.
· Padding
The padding in such boxes is of two types. One of the types is to include a good base material. The second type is to keep the rings intact through the use of ribbon and elastic bands. Thus, it is a good practice to have soft cotton inside a pouch and place it at the base. Sew a ribbon along the pouch to keep the ring intact.
· Finishing
To add a fine touch to your box, you can make use of velvet. Many jewelry sellers adopt this finishing option often. This allows you to cover the inside of your box completely with velvet. Thus, it offers a cleaning option for your rig. Velvet does not cause the shine to get off from the rings.
· Advertising
Since a box is ideal for advertising and promoting your product. So why not most of these options? Make sure to add your brand logo and other useful graphics to the box. However, avoid adding product details to your box. This is because since it is a small box, thus less information will look good.
· Hanging Notes
When delivering the rings as a gift, try to add a hanging note along with the box. But make sure the note is written on a fine paper. Attach or hang this paper along the box to present a lovely outlook. You can even cover these boxes in a good pouch or gift paper. And then attach the hanging note over them.
Go Green with Packaging Boxes
Boxes, such as Ring Boxes, offer an ideal way of packing your product. However, not only you but the environment gets benefited from such a packing. This is because carbon content in the world is rising with each passing day. For this, we need to act and act fast to prevent our planet from getting bad. Thus, our planet earth needs action from our side. 
In essence, we need to reduce the plastic content in the world. For this, the best way is to promote materials such as kraft, corrugated, and cardboard. Some people think a paper bag is good for the environment too. They are right to some extent. However, you need to pack your items in a good way as well.
Thus, it is ideal to have ring boxes pack your products. In addition, each box material is recyclable. Thus, after use, you can still get the best. Moreover, a box is easy to set up as well as break down or fold. Thus, after using it, you can easily store them in a place and use them as many times as you like.