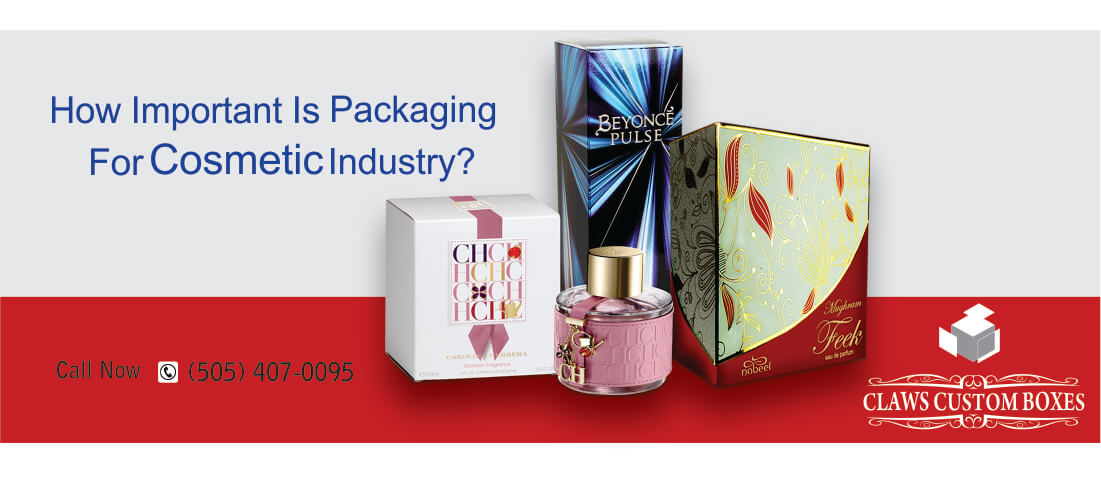 Comments Off

on How Important Is Packaging For Cosmetic Industry?
How Important Is Packaging For Cosmetic Industry?
The products of the cosmetic industry are probably the most astonishing and eye-catching that make them irresistible for the customers. The cosmetic and beauty care business is one of the most profit-making businesses all around the world; credit goes to the increasing beauty standards and high consciousness of people about their looks. Every year around $12 billion are spent on cosmetic products, other than skincare and hair products. The numbers are very huge, and they show how much demand people have for cosmetic products. Companies are now focusing on manufacturing stylish Custom Cosmetic Boxes for their products to make them more desirable for customers.
Beauty products are mostly very expensive, but customers don't actually care about it; if the product adding more value to their lives and solving their issues, it will always be sold out at any price. Although it is a money-making industry the competition is also very high because there are a lot of brands out there offering similar products. They are no way you should cut corners on your packaging because it is likely to have a huge impact on your product's worth and your credibility in the market.
Here are some reasons why makeup boxes or skincare products packaging is important in the cosmetic industry.
Adorable Products Appeal to Customers
Customized foundation, eye shadows, and lipstick boxes always make the packaging look super cool, and it also helps to attract more people. Nobody actually knows what inside your product and how it is going to help them; the only thing they can see the appearance of your product. Most of the customers guess the value of a product through its packaging, especially if they are buying it for the first. Always remember that customers will make the first purchase of your product based on your packaging, and the second purchase would depend on the quality of your product. So, having astonishing packaging can really help you to attract more people.
Help Promote Your Brand
The foundations and lipsticks that you are making are not very different from what all of the other companies are making. You are not different; there is no monopoly for sure. Branding is the only way to make your product get a unique identity that not just makes it different from other products but also makes it easier for the customers to remember it. The packaging is a major aspect of branding your product, and if you do it right half of the branding is already done. No more exceptional is your packaging, the more worth will be added to your brand.
Influence Buying Decisions
With the changing landscape of shopping, the buying behaviors of customers are also changing rapidly. Whether you are selling products at an online store or physical stores, you have to present your product really well to make it more prominent among the others. Your packaging is the only thing that urges the customers to choose your product when there are many other options are also available. Having nice packaging can have a great influence on customers buying decisions, and there are likely chances that your product would get more sales.
Offer Protection
It is very important to use packaging for your product that is not just beautiful but also offers full protection to your product. Companies must use durable and robust boxes to pack their products, so there would be no damage, and your products would remain secure. Most companies use rigid packaging for cosmetic products because it is quite solid and provide safety to the product.
Take Away!
All in all, it can be said that the packaging is really crucial to give your product more exposure in the cosmetic industry. Custom Cosmetic Boxes come in different shapes and sizes; you are free to choose the design and color of your choice, depending on how you want to brand your product. The packaging gives a unique identity to your brand and makes it more dominant in the market.