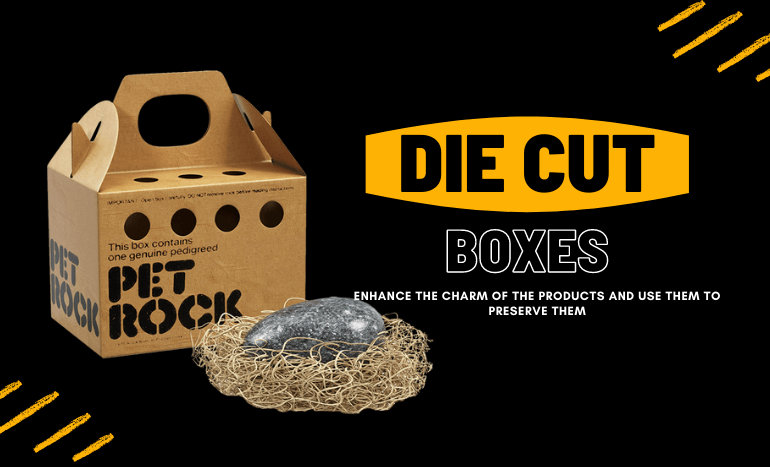 Comments Off

on Die Cut Boxes: History And Originality!
Die Cut Boxes: History And Originality!
If uniqueness is not something that mesmerizes you. There is something else that will. Often we talk about the items that fulfill our needs and requirements for long period. Whereas often we get products for the momentary requirements. But in this light, we tend to forget what such a product or item holds in itself. We only care about their use as well as their built quality. But we do not cover the entire ratio in considering what the nature of the product is. It leads us to why we have a lot of packaging products and their sub-categories.
Among packaging products, you have bags, shoppers, and boxes. Moreover, there are many sub-categories of all these products. Hence, diversity is there, but again we forget the originals. It is time to move back to the basics together with the nature of the products. Among the boxes, Die Cut Boxes have great importance in addition to history. Simple, elegant, and sleek boxes always attract the eyes. But there is more to this attraction. People nowadays like to move back to simplicity as well as history. Hence, anything simple always pleases the eyes.
What is the Name?
Often boxes carry the names of the products they have to store and pack. Moreover, their material and design also incorporate the theme of the products. But for certain boxes, the names do not come that easily. Or, the titles do not have to respect the products. While the title has to highlight the importance and nature of the specific item. All boxes contain a unique factor that has to favor them over other counterparts. Some offer strength whereas some carry the cost-saving tag. But often products carry all over them.
Such is the case with these boxes. The name die cut comes from the machines that cut the materials for the boxes. The machine goes by the name of die cutter, and thus the name die cut goes with the box. Apart from that, all these boxes have a great responsibility to promote your brand along with your product. In essence, you will have several methods to edit them like all boxes. But one common thing that comes with these boxes is an edge-to-edge design. There is no circular portion at the edges, and thus there is enough stability in the design.
Why Boxes?
Apart from the deep-meaning debates. We often find ourselves in the thought of why we need boxes. Though, you will find other packing materials in abundance these days. But whenever you will see a box, the feel and charm of it will be different. Here, we have a short review of what other packing items have to offer and what boxes specifically offer you.
· Paper Bags
The first packing item respecting the environment is a paper bag. This bag is made of paper and thus there is zero stiffness on offer. Moreover, these bags do not have a top covering. Hence, you have to carry these bags on your own.
· Plastic Shoppers
If there is one packing product that harms the environment, it is a plastic shopper. This shopper has no stiffness like bags. However, they offer you a carrying space but again you have to carry the items on your own. Like paper bags, shoppers offer the least security and safety.
· Boxes
Among all packing products, the best stiffness and rigidness come through boxes. The materials boxes use all carry stiffness of different grades. Hence, there will be some sort of security even for the lightest material. Moreover among packing items, only boxes offer this option to select any material you like. In addition, customization and stylizing is also useful tool that boxes handover to you.
Considering these facts, there is no way you can skip boxes for any other item.
Materials for these Boxes
Whenever we look for boxes, there is a list that contains three primary materials. However, sometimes boxes make use of all these materials. Whereas often boxes make use of a singular material. Moreover, you will find boxes that make use of multiple materials at once. It is so that all the requirements are in order. But here, there will be no long reviews about each material. Rather, we will discuss only the materials that help to make boxes with die-cut designs.
· Cardboard Material
Cardboard is a general material for different purposes. For example, such material often finds importance for student projects as well as general home decoration ideas. Moreover, boxes only make use of this material for its easy access and low cost. Although the strength on offer is not huge and great. But it is enough to accommodate light items easily. Such materials have low stiffness along with low rigidity.
· Corrugated Material
It is a fine material when considering packing heavy items. The strength is immense and the rigidity is enough to carry heavy items. Moreover, a single sheet of this material contains three layers. These include two surround layers and one binding central layer. The central layer has a wavy pattern to accommodate air. It prevents the items inside from taking up the damage during accidents. It is the sole reason why the glass and electronics industries rely on this packing material for boxes.
All materials offer different specifications and traits. But often we have to consider the safest and legitimate option. It allows our products to have the utmost safety as well as security.
Two Primary Design Variations
Do not consider this the customization step rather it is about all the designs that these boxes can include. Moreover, for a specific design, make sure you contact your manufacturer for it. Because only boxes offer you this leverage.
· Window Designs
All boxes that carry the name die cut have one special skill. That is, these boxes allow you to make viewing spaces or windows of different designs.
These include:
Leaf designs
Large rectangular window
Half-slice window
Circular windows
Tree shape windows
Heart shape windows
Extending windows
Through-hole windows
· Sliding Design
A sliding design is where multiple materials find a place in a single box. Thus, in these designs, you will see cardboard material as well as corrugated in a single design. Such a design has a container to hold items. Moreover, this base slides into a cover that is open at either end. The base part makes use of corrugated material while the cover makes use of cardboard material.
Box Usage
While you will be considering there will be a list of products that make use of these boxes. But there is a little addition this time. Below, you will also find the different other uses for these boxes apart from item storage.
· Glass Items
All glassware needs to make use of a stiff material as well as a tight design. This enables the manufacturers an easy method to pack items with more care and safety than necessary.
· Electronics
All electronics manufacturers make use of these boxes for the same reasons as the glass ones. However, you will find many products that come in these boxes nowadays.
Laptops
Tablets
Smartphones
Printers
TVs
Ovens
Washing machines
Juicers
· Food Items
Food items make use of Die Cut Boxes in multiple ways. Either you can pack them in these boxes as a whole. Or you can use the through-hole design to use them as containers for your drinks too!